One of the policies within AB Tutor is 'Block Internet Access'. This works by blocking all access to specified Internet ports.
Create a 'Block Internet Access' Policy
Click on Policies – Policy Manager – Add New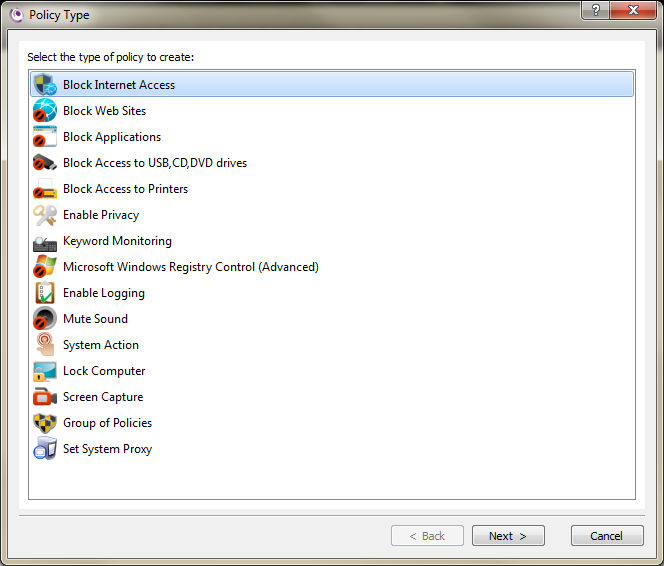 Highlight 'Block internet Access' and press 'next'.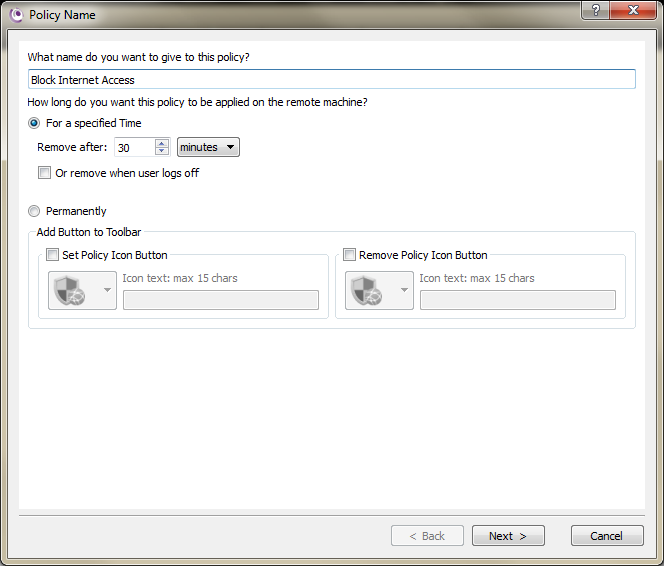 Enter a name to identify this policy.
You can then choose to create a button on the toolbar, if you wish.

Applying the Policy on the Remote Machine
Select For a Specified Time which will remove the policy after a set amount of time.
Select Permanent if you want this policy to apply to all users who use the machine even when the Tutor program is not running or the remote machine is rebooted.
Warning: We recommend that you do not set any permanent policies close to the end of your trial of AB Tutor. Once the 30 days' trial has run out, the policies (especially the Windows control policies) that you have applied will remain in force and cannot easily be removed. Therefore please make sure that you remove all permanent policies well before the trial expires.
Administrator Security
You will only see this if you are logged on as an Administrator.
Protected – If this option is set, then tutors will not be able to apply, edit or remove this policy.
If removed re-apply after X mins – You may want to apply a policy that remains active except during a lesson. This will allow the tutor to remove the policy during the lesson and the policy will be automatically re-applied after the set time, with or without the tutors intervention.
Press Next
Policy Time
If you select a Permanent policy, then you are given the option to control when that policy will be active throughout the day.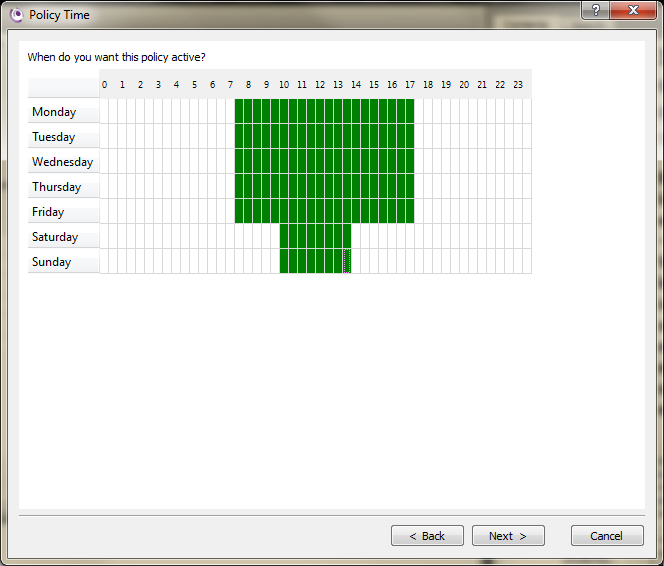 By default, the policy is active all day every day. If you wish to de-activate a policy during normal school hours, then:
Select the Inactive option
Move the mouse over the box indicating the start time (e.g. Monday at 8 am)
Click the left mouse button and drag the mouse to the end time (e.g. Friday 4.30 pm)
Release the left mouse button.
Areas marked in white means the policy will be inactive, areas in blue means the policy will be set.
Note: The day is broken down into blocks of 30 minutes, 48 in total, so you cannot specify times outside these values.
Click Next
Select the communication ports on the remote machines that will prevent any application from accessing the internet through that port.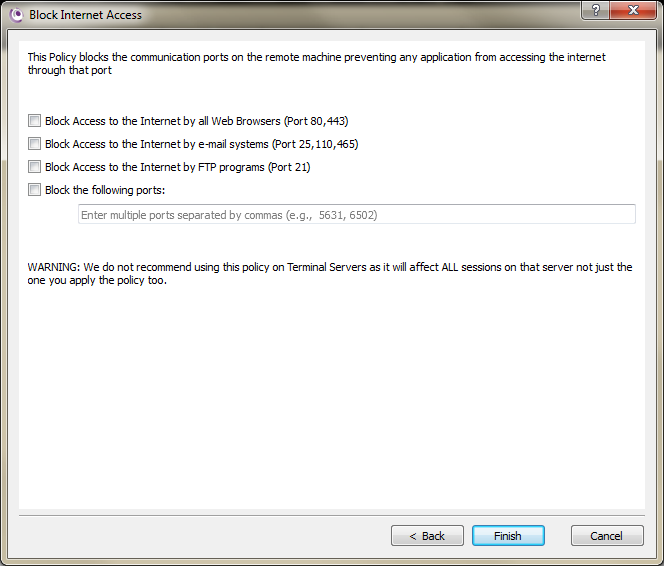 Click 'Finish'
You can now apply this policy to the remote clients.